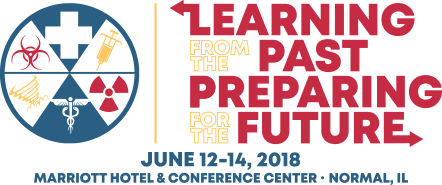 ---
CLOSING KEYNOTE BY MICHAEL HINGSON
Michael Hingson's life changed dramatically on September 11, 2001 when he and his guide dog, Roselle, escaped form the 78th floor of Tower One in the World Trade Center moments before it collapsed.
Click Here for full bio & a picture of Thunder Dog. 
---
OPENING KEYNOTE BY TODD NICOLSON
01 OCT 2017 Mass Shooting Incident Las Vegas:  An overview of the mass shooting event, role of the coalition, and on-going research.
Click Here for full bio & description. 
---
ATTENDEE REGISTRATION IS NOW OPEN!
---
EXHIBITOR REGISTRATION IS NOW OPEN!
---
GOLD SPONSOR - MOBILE SOLUTIONS

---
CE EVALUATIONS (Available June 11th)
---
CONFERENCE PROGRAM (Available June 4th) 
---
DOWNLOAD THE GUIDEBOOK APP (Available June 4th)
Click here for more information about downloading Guidebook. 
---
CRISIS STANDARDS OF CARE CONFERENCE
More information coming soon!
---
MAIN CONTACTS
Illinois State University Conference Services
ISU is handling all conference arrangements for the 2018 Preparedness Summit. Any questions or concerns regarding conference registration or local arrangements can be directed to Megan.
Megan McCann 
Program Coordinator, Conference Services Illinois State University 
Direct: 309-438-2816 
memccan@ilstu.edu
---